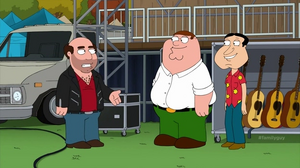 Ricky is an employee for Sony Records who becomes Peter and Quagmire's singing agent in "In Harmony's Way". Peter decides to replace Mort Goldman because he had a dream of Ricky and a giraffe and feels they will be closer to achieving the giraffe by choosing Ricky.
During a recording session for "This Waitress is Prettier Than My Wife", Ricky gets a sample of Peter's farts in the recording booth that Quagmire complains about as he shows off the album covers approved by Peter, without input from Quagmire.
Ricky is voiced by Nick Kroll.