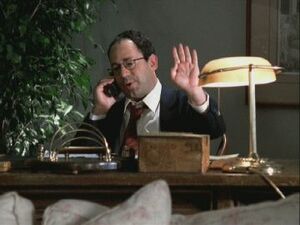 Ricky Blitt is a former writer and executive producer on Family Guy for the first two seasons. Other notable shows Blitt has worked on include The Parent Hood, The Jeff Foxworthy Show, Brotherly Love. He also created the short-lived FOX sitcom The Winner, which was executive produced by Seth MacFarlane.
He wrote the episodes "The Son Also Draws", "Death Is a Bitch", "There's Something About Paulie", "Mr. Griffin Goes to Washington", and "When You Wish Upon a Weinstein".
He voiced Stewie Griffin in "Brian Sings and Swings" when he exposed his odd laugh while watching Hope & Faith. He also made a cameo live-action appearance as Alyssa Milano's lawyer Joel in "Mr. Griffin Goes to Washington".
External Links
Ad blocker interference detected!
Wikia is a free-to-use site that makes money from advertising. We have a modified experience for viewers using ad blockers

Wikia is not accessible if you've made further modifications. Remove the custom ad blocker rule(s) and the page will load as expected.