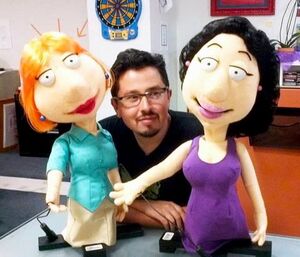 Ricky Guarduno was a storyboard artist for Family Guy.
In addition to Family Guy, the artist worked on series such as El Tigre, The Drinky Crow Show, The Buzz on Maggie and Coconut Fred's Fruit Salad Island. In addition, he created Dumm Comics' online comic 1930 Nitemare Theatre.
Ricky is credited as a storyboard artist in "Tom Tucker: The Man and His Dream". In addition, the episode is dedicated to his memory. He is also credited as a storyboard artist on "Ratings Guy", "Lois Comes Out of Her Shell" and "Brian's Play".
Ad blocker interference detected!
Wikia is a free-to-use site that makes money from advertising. We have a modified experience for viewers using ad blockers

Wikia is not accessible if you've made further modifications. Remove the custom ad blocker rule(s) and the page will load as expected.