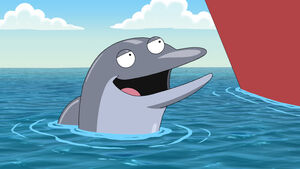 Ricky Dene Gervais (June 25, 1961) is a British actor, comedian, and writer, known for his work in the original British version of The Office and Extras. Gervais' film credits include the Night at the Museum film series, Cemetery Junction and The Invention of Lying.
Gervais provides the voice of Billy Finn, a talking dolphin in "Be Careful What You Fish For".
Ad blocker interference detected!
Wikia is a free-to-use site that makes money from advertising. We have a modified experience for viewers using ad blockers

Wikia is not accessible if you've made further modifications. Remove the custom ad blocker rule(s) and the page will load as expected.