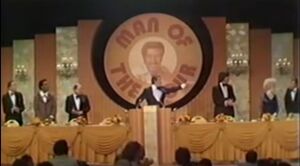 Meg and Chris have no speaking lines.
The roasting stage in the infomercial is a fairly accurate representation of the real roasting stage. However, the actual roast of Sammy Davis, Jr., which took place on April 24, 1975, featured a few different roasters than those pictured.[1]
Jiminy Cricket from the 1940 animated film Pinocchio makes a cameo appearance.
The song that plays during the diving training montage is "Round and Round" by Ratt.
Peter believes that Comedy Central invented roasts. Seth MacFarlane was an occasional roast host for Comedy Central.
After Peter notes that guys are better than women, a title card illustrates the number of male writers for the show, compared to Cherry Chevapravatdumrong being the sole current female writer.
Jerome and Cleveland make a callback to Marlon Johnson and his catch phrase from "Secondhand Spoke".
Ad blocker interference detected!
Wikia is a free-to-use site that makes money from advertising. We have a modified experience for viewers using ad blockers

Wikia is not accessible if you've made further modifications. Remove the custom ad blocker rule(s) and the page will load as expected.