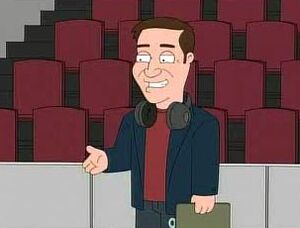 Rob Lotterstein is an American television writer, producer and creator known for his work on Boy Meets World, Suddenly Susan, Ellen, Will & Grace and The War at Home.
Rob provides his own voice as the director for Class Holes! in "Brian Griffin's House of Payne" when they begin filming the pilot episode.
Ad blocker interference detected!
Wikia is a free-to-use site that makes money from advertising. We have a modified experience for viewers using ad blockers

Wikia is not accessible if you've made further modifications. Remove the custom ad blocker rule(s) and the page will load as expected.