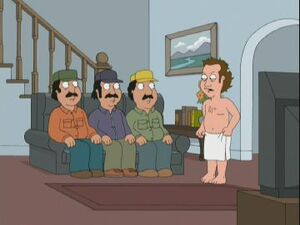 Robert Michael "Rob" Schneider (born October 31, 1963) is an American actor, comedian, screenwriter and director. A stand-up comic and veteran of the NBC sketch-comedy series Saturday Night Live, Schneider went on to a career in feature films, including starring roles in the comedies Deuce Bigalow: Male Gigolo and The Hot Chick.
He appears in "Model Misbehavior" as a date for the loser of Stewie Griffin's red light-green light game.
In "Lois Kills Stewie", the tied up Griffins play a game of starting a fake rumor about Schneider that turns out to be apparently true.
He is voiced by Danny Smith.
Ad blocker interference detected!
Wikia is a free-to-use site that makes money from advertising. We have a modified experience for viewers using ad blockers

Wikia is not accessible if you've made further modifications. Remove the custom ad blocker rule(s) and the page will load as expected.