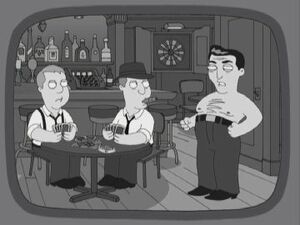 Robert Charles Durman Mitchum (August 6, 1917 – July 1, 1997) was an American film actor, author, composer and singer. Mitchum is largely remembered for his starring roles in several major works of the film noir style, and is considered a forerunner of the anti-heroes prevalent in film during the 1950s and 1960s.
He stars in In-Shape, Out-of-Shape Guy from the '50s, a movie that Stewie tries to on satellite TV in "The Juice Is Loose".
He appears in a movie called A Backhand For Sally and starts talking to Peter Griffin, teaching him how to be a real 1950s man in "Peter-assment".
Ad blocker interference detected!
Wikia is a free-to-use site that makes money from advertising. We have a modified experience for viewers using ad blockers

Wikia is not accessible if you've made further modifications. Remove the custom ad blocker rule(s) and the page will load as expected.