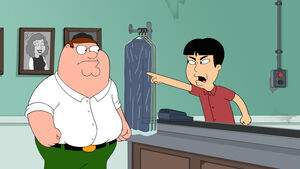 Robert Wu is an American actor, producer and writer. His credits include appearances on Bones, Numb3rs and video game voice credits.
Wu provides the voice for Mr. Washee Washee in "Tiegs for Two", the octopus in "The Blind Side", Charles Yamamoto in "Killer Queen" and various others.
Ad blocker interference detected!
Wikia is a free-to-use site that makes money from advertising. We have a modified experience for viewers using ad blockers

Wikia is not accessible if you've made further modifications. Remove the custom ad blocker rule(s) and the page will load as expected.