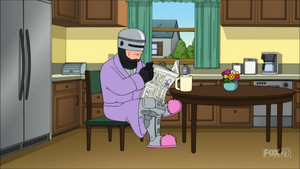 RoboCop is a 1987 American science fiction-action film directed by Paul Verhoeven. Set in a crime-ridden Detroit, Michigan in the near future, RoboCop centers on a police officer who is brutally murdered and subsequently re-created as a super-human cyborg known as "RoboCop". The film features Peter Weller, Dan O'Herlihy, Kurtwood Smith, Nancy Allen, Miguel Ferrer, and Ronny Cox.
In "Running Mates", The "Enforcement Droid Series 209", or "ED-209", a fictional robot in the RoboCop films appears as the "XL-K" hall pass enforcement robot, purchased by Peter Griffin during his tenure as School Board President. A young girl is confronted by the XL-K and requested to present a hall pass. It attacks her even after she complies. It is implied that the robot kills Mr. Fargus upon his rehiring when he doesn't understand the robot's request.
Peter Weller appears in a reenactment of a scene from the film in "Petarded" during a paintball fight.
Peter tries to talk Joe Swanson out of investigating the arson he and the guys set at Goldman's Pharmacy by noting that even RoboCop took a day off in "Burning Down the Bayit". The following cutaway shows RoboCop in a robe and slippers refusing to take a phone call.