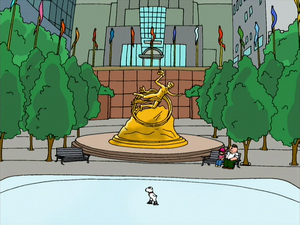 Rockefeller Center is a complex of 19 commercial buildings between 48th and 51st streets in New York City, United States. Built by the Rockefeller family, it is located in the center of Midtown Manhattan, spanning the area between Fifth Avenue and Sixth Avenue. Paul Manship's highly recognizable bronze gilded statue of the Greek legend of the Titan Prometheus recumbent, bringing fire to mankind, features prominently in the sunken plaza at the front of 30 Rockefeller Plaza.
While trying to find another way to become famous after Chris is turned against his family by Antonio Monatti in "A Picture's Worth a Thousand Bucks, Peter discovers Meg has a talent for bird calls when she whistles dejectedly for not having found a previous talent and attracts pigeons and Big Bird.
Ad blocker interference detected!
Wikia is a free-to-use site that makes money from advertising. We have a modified experience for viewers using ad blockers

Wikia is not accessible if you've made further modifications. Remove the custom ad blocker rule(s) and the page will load as expected.