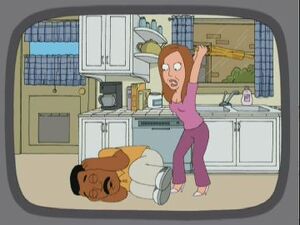 Rodney Glen King (April 2, 1965 – June 17, 2012) was an African-American who, on March 3, 1991, video footage showed LAPD officers repeatedly striking King with their batons. A portion of this footage was aired by news agencies around the world, causing public outrage that raised tensions between the black community and the LAPD and increased anger over police brutality and social inequalities in the black/African-American community and the world-wide community as a whole.
Four LAPD officers were later tried in a state court for the beating but were acquitted. The announcement of the acquittals sparked the 1992 Los Angeles Riots. A later federal trial for civil rights violations ended with two of the officers found guilty and sent to prison and the other two officers acquitted.
While in Los Angeles in "Brian Does Hollywood", Peter has two police officers beat him in a similar manner to Rodney King while Lois takes pictures.
In "Prick Up Your Ears", Mayor Adam West was watching Rodney King of Queens, a parody of the CBS sitcom The King of Queens and the infamous beating.
In "No Meals on Wheels", Big Pete's House of Munch offered a dish called Rodney King Crab on their menus in anticipation of Joe Swanson and his cop friends.