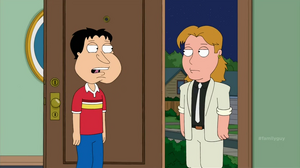 Ronnie is Crystal Quagmire's date to his prom during a flashback in "Quagmire's Mom" while Quagmire tries to explain his behavior is due to his promiscuous mother during a trial for statutory rape. He requests Ronnie have his mother back by 11pm, but Ronnie instead suggests just 20 minutes for sex in the back of the limo outside. Young Quagmire begs him to spend more time with her since she went to the trouble to buy the dress.
Ad blocker interference detected!
Wikia is a free-to-use site that makes money from advertising. We have a modified experience for viewers using ad blockers

Wikia is not accessible if you've made further modifications. Remove the custom ad blocker rule(s) and the page will load as expected.