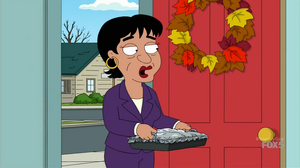 Rosario Vargas is running for Quahog city council 3rd district in "Peter's Sister".
When the family gives Chris the junk mail to occupy himself with, he gets permission to invite Rosario to Thanksgiving dinner. She arrives and proclaim that when Quahog works, it works for everyone.
Rosario is voiced by Belita Moreno.
Ad blocker interference detected!
Wikia is a free-to-use site that makes money from advertising. We have a modified experience for viewers using ad blockers

Wikia is not accessible if you've made further modifications. Remove the custom ad blocker rule(s) and the page will load as expected.