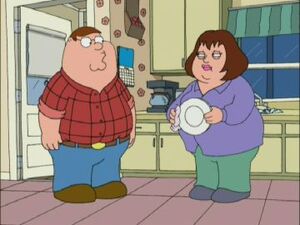 Roseanne was an American sitcom broadcast on ABC from 1988 to 1997 starring stand-up comedian Roseanne Barr and John Goodman. In Stewie Griffin: The Untold Story, Lois claims she always said they should never have replaced Peter on Roseanne and a flashback shows why they did - he could never understand a thing Rosie was saying.
Ad blocker interference detected!
Wikia is a free-to-use site that makes money from advertising. We have a modified experience for viewers using ad blockers

Wikia is not accessible if you've made further modifications. Remove the custom ad blocker rule(s) and the page will load as expected.