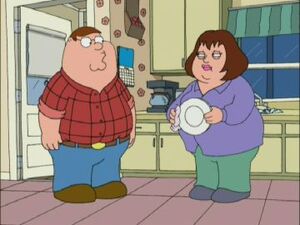 Roseanne Cherie Barr (born November 3, 1952) is an American actress, comedian, writer, television producer and director. Roseanne became famous in the early 1980s with her stand-up comedy routine, receiving critical acclaim for her unglamorized portrayal of the typical American working-class housewife. In her routine she popularized the phrase, "domestic goddess," to refer to a homemaker or housewife. The success of her act led to her own series on ABC, called Roseanne.
She appeared as Roseanne Conner in Stewie Griffin: The Untold Story. Stewie Griffin said that his father Peter once replaced actor John Goodman as Dan Conner, and Griffin and Barr are seen acting a scene.
Ad blocker interference detected!
Wikia is a free-to-use site that makes money from advertising. We have a modified experience for viewers using ad blockers

Wikia is not accessible if you've made further modifications. Remove the custom ad blocker rule(s) and the page will load as expected.