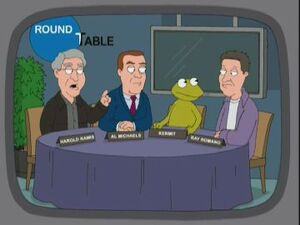 RoundTable is a fictional television program starring Al Michaels, Harold Ramis, Kermit the Frog, and Ray Romano. In it, they debate various topics.
In an episode seen in "Mother Tucker", which Chris, Meg and Lois Griffin watch, they speak over each other so much that they forget what they were actually discussing.
Ad blocker interference detected!
Wikia is a free-to-use site that makes money from advertising. We have a modified experience for viewers using ad blockers

Wikia is not accessible if you've made further modifications. Remove the custom ad blocker rule(s) and the page will load as expected.