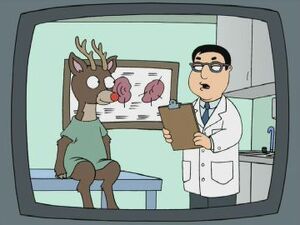 Rudolph the Red Nosed Reindeer is a Christmas story about Santa Claus' ninth and lead reindeer who possesses a red colored nose that is powerful enough to illuminate the team's path through extremely inclement weather.
He appears in "And the Wiener is..." in an oncologist's office, only to find out that his famous glowing nose is caused by a malignant, inoperable brain tumor.
When Stewie finds out that he will only become 5'1" as an adult, he worries about becoming an outcast like "Rudolph the Uncircumcised Reindeer" in "Papa Has A Rollin' Son". Santa tries to reassure him, but takes umbrage that Rudolf consulted with Mrs. Claus who disapproves of him being circumcised.
Ad blocker interference detected!
Wikia is a free-to-use site that makes money from advertising. We have a modified experience for viewers using ad blockers

Wikia is not accessible if you've made further modifications. Remove the custom ad blocker rule(s) and the page will load as expected.