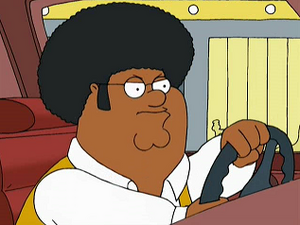 Rufus Griffin was Peter's distant cousin, a black actor who supposedly starred in a series of blaxploitatio films such as Caddyblack, Blackdraft, Black Kramer vs. Kramer and Black to the Future in "If I'm Dyin', I'm Lyin'".
He also appears in Family Guy Video Game! where he can be played as at Cheesie Charlie's and is also used in one of the video game's cutaway scenes.
Ad blocker interference detected!
Wikia is a free-to-use site that makes money from advertising. We have a modified experience for viewers using ad blockers

Wikia is not accessible if you've made further modifications. Remove the custom ad blocker rule(s) and the page will load as expected.