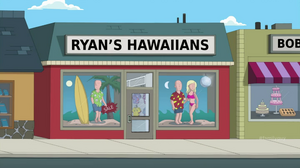 Ryan's Hawaiians is Quagmire's supply store for his collection of Hawaiian shirts.
When Quagmire comes up missing in "Quagmire's Quagmire", Peter, Joe and Quagmire's father Ida Davis search his usual haunts including Ryan's. They discover that Quagmire hadn't been in since he picked up an order of seventy red shirts three months previously. The sales clerk talks Peter into trying on a Hawaiian shirt, telling him he'd look like either an oldies DJ or a 1980s wrestling manager. Peter likes the way he looks, noting that heart disease always looks better when wrapped in a tropical floral pattern.
The clerk is voiced by Julius Sharpe.
Ad blocker interference detected!
Wikia is a free-to-use site that makes money from advertising. We have a modified experience for viewers using ad blockers

Wikia is not accessible if you've made further modifications. Remove the custom ad blocker rule(s) and the page will load as expected.