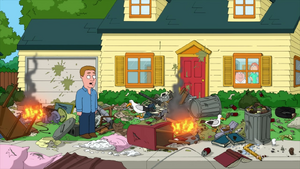 Matthew Ryan Phillippe (born September 10, 1974), better known as Ryan Phillippe, is an American actor. After appearing on the soap opera One Life to Live, he came to fame starring in a string of films, including I Know What You Did Last Summer, Cruel Intentions, and Academy Award Best Picture nominee Gosford Parkand Academy Award-winning ensemble film Crash.
Ryan appears on the Griffin's front lawn looking to impregnate someone after Peter successfully shuts down the Quahog city government in "Tea Peter".
Ad blocker interference detected!
Wikia is a free-to-use site that makes money from advertising. We have a modified experience for viewers using ad blockers

Wikia is not accessible if you've made further modifications. Remove the custom ad blocker rule(s) and the page will load as expected.