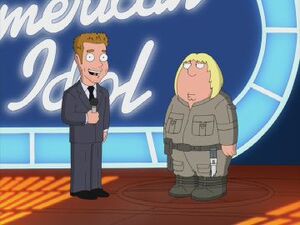 Ryan Seacrest is a well-known radio DJ and television personality, notably for being the host of the FOX hit show American Idol.
In "No Chris Left Behind" it is revealed that Ryan was part of the "Skull and Bones Society" run by Carter Pewterschmidt, who thinks he is a douchebag.
In "Go, Stewie, Go!", he interviews Karina Smirnoff, star of the new Jolly Farm Revue, who was taking a media tour as the song of the same name plays.
In Something, Something, Something, Dark Side, Luke Skywalker, played by Chris Griffin, walks onto the Idol stage, greeted by Seacrest preceding his lightsaber duel with Darth Vader, played by Stewie Griffin. Chris suddenly kills him with his lightsaber.
Brian uses Ryan Seascrest's signoff after thwarting the 9/11 attacks in "Back to the Pilot", even though Idol would not begin airing until 2002 and Seacrest would not use the catchphrase until well after original co-host Brian Dunkelman's departure.
Peter uses Ryan's signoff in "Foxx in the Men House" when he finishes talking to Stryker Foxx.
Ryan is voiced by Chris Cox.