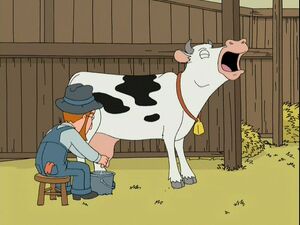 The S&M cow is a recurring cow character on Family Guy.
It first appears in a "Jungle Love" cutaway, getting excited over being milked.
It also appears in "Boys Do Cry" when Peter Griffin is taken out to brand a cow with Mr. Lynch and his other Texan friends, upon which it moans and tells him to wait, after that it puts a gag in her mouth and then moans some more.
The S&M cow is voiced by Danny Smith.
See also
Ad blocker interference detected!
Wikia is a free-to-use site that makes money from advertising. We have a modified experience for viewers using ad blockers

Wikia is not accessible if you've made further modifications. Remove the custom ad blocker rule(s) and the page will load as expected.