Sábado Gigante
Talk

0
5,094pages on
this wiki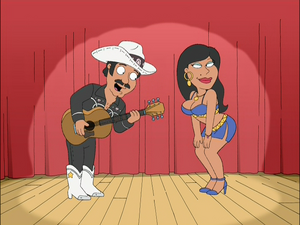 Sábado Gigante ("Giant Saturday") is a Spanish-language television show that is Univision's longest-running program and the longest-running variety TV show in the world. Sábado Gigante is an eclectic and frenetic mix of various contests, human-interest stories, and live entertainment.
The program is currently one of only four remaining first-run primetime programs airing on Saturday nights on any of the American commercial broadcast television networks, along with CBS's 48 Hours Mystery and FOX's COPS and America's Most Wanted. A new show has been produced every week throughout the show's history, with no reruns.
In "Stewie Loves Lois", during an argument with Brian, Stewie starts arguing in Spanish. Stewie attributes this to falling asleep while watching Sábado Gigante, followed by an animated cutaway of the show.