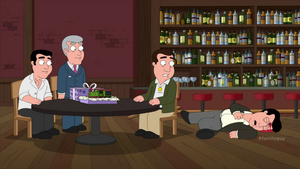 Sal "Holding the Box Because We Can't Figure Out What the Box Means" Casella was a mobster that is shot in "Christmas Guy" as he and other mobsters try to figure out the exact meaning of a toy train gift, accidentally sent by Vinny who meant to send a foot from another gangster.
Ad blocker interference detected!
Wikia is a free-to-use site that makes money from advertising. We have a modified experience for viewers using ad blockers

Wikia is not accessible if you've made further modifications. Remove the custom ad blocker rule(s) and the page will load as expected.