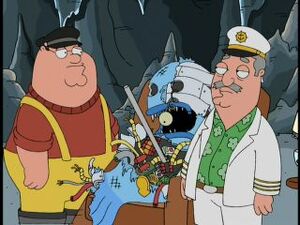 Salty is an eccentric, wealthy fisherman who faked his own death in "A Fish out of Water" and spread the Daggermouth rumor. He bribes people who discover his secret so that they won't expose him and intended for Daggermouth to become the main character of a sitcom. His dream was realized in Daggermouth and Boom Boom, which was picked up by Nickelodeon. He was voiced by Brian Doyle-Murray.
Ad blocker interference detected!
Wikia is a free-to-use site that makes money from advertising. We have a modified experience for viewers using ad blockers

Wikia is not accessible if you've made further modifications. Remove the custom ad blocker rule(s) and the page will load as expected.