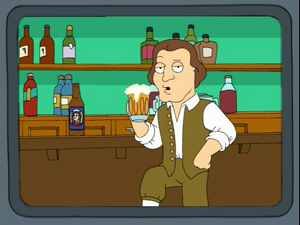 Samuel Adams is an American brand of beer brewed by the Boston Beer Company and its associated contract brewers. The company was founded in 1984 by Jim Koch, Harry M. Rubin, and Lorenzo Lamadrid in Boston, Massachusetts, USA. The brand name of Samuel Adams, often abbreviated to Sam Adams, even in advertisements, was chosen in honor of Samuel Adams, an American patriot famous for his role in the American Revolution and the Boston Tea Party. According to tradition, he was also a brewer.
In the Stewie Griffin: The Untold Story segment "Bango Was His Name Oh", Peter and Lois admire a 60" plasma television at the Quahog Circuit Shack as it plays a Samuel Adams commercial. As the executives pictured order lunch, one orders a Samuel Adams and is question by the others for his early drinking. He notes that he needs to get the taste of weed and hooker spit out of his mouth, prompting the others to order the same.
The design of Pawtucket Patriot Ale is heavily influenced by Samuel Adams.