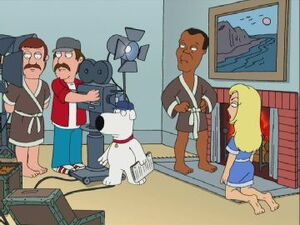 Samuel Leroy Jackson (born December 21, 1948) is an American film and television actor and film producer. After Jackson became involved with the Civil Rights Movement, he moved on to acting in theater at Morehouse College, and then films. He had several small roles such as in the film Goodfellas, before meeting his mentor, Morgan Freeman, and the director Spike Lee. After gaining critical acclaim for his role in Jungle Fever in 1991, he appeared in films such as Patriot Games, Amos & Andrew, True Romance and Jurassic Park. In 1994 he was cast as Jules Winnfield in Pulp Fiction, and his performance received several award nominations and critical acclaim. He also starred as Mace Windu in the Star Wars prequel trilogy.
He stars in a Woodie-nominated pornographic film with Jenna Jameson and directed by Brian in "Brian Does Hollywood".
Ad blocker interference detected!
Wikia is a free-to-use site that makes money from advertising. We have a modified experience for viewers using ad blockers

Wikia is not accessible if you've made further modifications. Remove the custom ad blocker rule(s) and the page will load as expected.