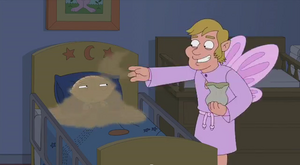 The Sandman is a mythical character in central and northern European folklore who brings good dreams by sprinkling magical sand onto the eyes of people while they sleep at night.
Stewie hires the Sandman in "Baking Bad" in a failed attempt to help him get to sleep.
Ad blocker interference detected!
Wikia is a free-to-use site that makes money from advertising. We have a modified experience for viewers using ad blockers

Wikia is not accessible if you've made further modifications. Remove the custom ad blocker rule(s) and the page will load as expected.