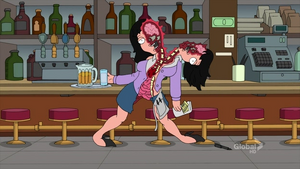 Sandra is a waitress at The Drunken Clam.
in "Lottery Fever", Glenn Quagmire talks Peter Griffin into giving him a loan to invest in penis enlargement pills. When Peter ends up broke, Quagmire gives him his profits from his investment, noting how effective the pills were after spending the night with Sandra. Sandra is seen split in half, caused by the intercourse with Quagmire's artificial enhancement Peter was amazed that she was still able to come into work that day.
Ad blocker interference detected!
Wikia is a free-to-use site that makes money from advertising. We have a modified experience for viewers using ad blockers

Wikia is not accessible if you've made further modifications. Remove the custom ad blocker rule(s) and the page will load as expected.