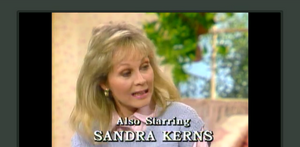 Sandra Borgsmiller Kerns (born July 20, 1949) is an American movie and television actress who worked on television in the 1970s and 1980s before retiring to care for her family with husband Hubie Kerns Jr., a stuntman.
She is known for her role as Ellen Powell on Charles in Charge. She was a regular cast member when the show initially went into first-run syndication in January 1987, but appeared scarcely afterwards. She appeared in this role in "New Kidney in Town", in the show's opening credits.
Ad blocker interference detected!
Wikia is a free-to-use site that makes money from advertising. We have a modified experience for viewers using ad blockers

Wikia is not accessible if you've made further modifications. Remove the custom ad blocker rule(s) and the page will load as expected.