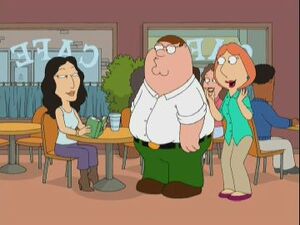 Sandra Oh (born July 20, 1971) is a Canadian actress, primarily known for her role as Dr. Cristina Yang in the ABC series Grey's Anatomy. She also played notable roles in the feature films Under the Tuscan Sun and Sideways.
She appears in "Chick Cancer" when Peter and Lois Griffin meet her at a restaurant. Lois is thrilled to meet her, but Peter assumes that she does not speak English and speaks to her very slowly with hand gestures before giving her a dollar. Peter thinks Sandra Oh is Asian because of her colored skin and eyes, under the assumption that it is a lot of money to them.
Ad blocker interference detected!
Wikia is a free-to-use site that makes money from advertising. We have a modified experience for viewers using ad blockers

Wikia is not accessible if you've made further modifications. Remove the custom ad blocker rule(s) and the page will load as expected.