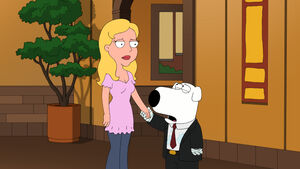 Sara E. R. Fletcher is an American actress with experience in theater, music videos, internet series' pod-casts, commercials, film and television.
Her film credits includes a guest-starring role in the 2008 Nickelodeon series, Merry Christmas Drake and Josh as well as lead roles in several independent productions including iCrime, A Numbers Game, Near Fall and Wet and on television's Monk.
Sara provides assorted voices in Family Guy, including Kate in "The Blind Side".
Ad blocker interference detected!
Wikia is a free-to-use site that makes money from advertising. We have a modified experience for viewers using ad blockers

Wikia is not accessible if you've made further modifications. Remove the custom ad blocker rule(s) and the page will load as expected.