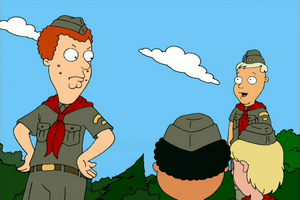 Saunders is a member of the Youth Scouts of America.
He provides the Scoutmaster with Rule 142-B, which dictates that all scouts must sit in the semi-circle when Chris Griffin tries to sit outside and draw in "The Son Also Draws". as a "reward" for knowing the correct rule, the Scoutmaster makes him perform twenty push-ups, some of which while standing on Saunder's back.
Ad blocker interference detected!
Wikia is a free-to-use site that makes money from advertising. We have a modified experience for viewers using ad blockers

Wikia is not accessible if you've made further modifications. Remove the custom ad blocker rule(s) and the page will load as expected.