Science and Health with Key to the Scriptures
Talk

0
Share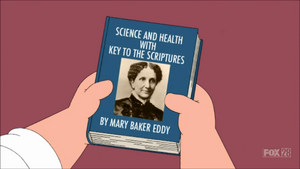 Science and Health with Key to the Scriptures is the central text of the Christian Science religion. It was written by Mary Baker Eddy, inspired by studies of the Bible she undertook in 1867 following a healing experience. In a book entitled Christian Science, Mark Twain challenged Eddy's authorship of Science and Health. He noted that works Eddy was known to have written revealed her peculiar, opaque, and generally poor writing style, as distinguished from the clear, grammatical style of Science and Health. Twain ultimately concluded that Eddy simply did not have the command of the English language necessary to have authored Science and Health.
In "Livin' on a Prayer", Peter and Lois Griffin encounter Christian Scientists Hope & Ben Jennings who refuse to allow their son Scotty to get professional medical help, instead, relying on prayer. They show the family the book Science and Health with Key to the Scriptures as the key to their beliefs. Peter later reads it and becomes fascinated with the idea of praying for what he wants, imagining himself as Cathrine Middleton on the day of her wedding to Prince William.
Ad blocker interference detected!
Wikia is a free-to-use site that makes money from advertising. We have a modified experience for viewers using ad blockers

Wikia is not accessible if you've made further modifications. Remove the custom ad blocker rule(s) and the page will load as expected.