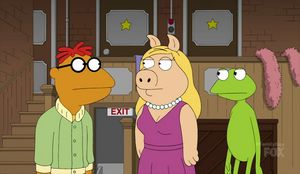 Scooter is a muppet, and originally served as an assistant backstage on The Muppet Show.
When Brian tries to point out to Stewie that it isn't easy to work with an ex in "The Boys in the Band", a cutaway gag shows Scooter asking Miss Piggy about calling in sick the previous day. As she brushes it off with humor about having a "frog in her throat" while giving Kermit the Frog a poke in the ribs, he tiredly suggests she quit drinking.
Ad blocker interference detected!
Wikia is a free-to-use site that makes money from advertising. We have a modified experience for viewers using ad blockers

Wikia is not accessible if you've made further modifications. Remove the custom ad blocker rule(s) and the page will load as expected.