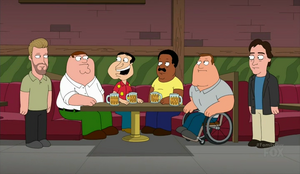 Scott Andrew Caan (born August 23, 1976) is an American actor known for his work in the revival of Hawaii Five-0 and Entourage.
He is mentioned by Stewie when he is getting his diaper changed and Peter takes a smoke break in the middle, remarking that Scott Caan was raised the same way and he turned out okay in "Secondhand Spoke".
Caan appears with Scott Baio and Scott Storch when they all acknowledge knowing about easy sex on Tinder in "The Dating Game".