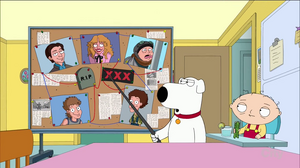 Scott Schwartz (born May 12, 1968) is an American former child actor, known for his roles in The Toy and A Christmas Story.
Brian uses the troubled lives of former child actors to convince Stewie to give up acting in "The Peanut Butter Kid", including Scott whom he notes when into porn.
Ad blocker interference detected!
Wikia is a free-to-use site that makes money from advertising. We have a modified experience for viewers using ad blockers

Wikia is not accessible if you've made further modifications. Remove the custom ad blocker rule(s) and the page will load as expected.