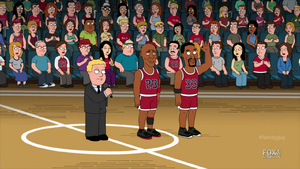 Scottie Pippen (born September 25, 1965) is a retired American professional basketball player who played in the National Basketball Association. He is most remembered for his time with the Chicago Bulls, with whom he was instrumental in 6 NBA titles and their record 1995–96 season of 72 wins. Pippen, along with Michael Jordan, played an important role in transforming the Bulls team into a vehicle for popularizing the NBA around the world during the 1990s.
In "Into Fat Air", Peter laments that he'll always be Lois' second lover, like Scottie Pippen to Michael Jordan.
Ad blocker interference detected!
Wikia is a free-to-use site that makes money from advertising. We have a modified experience for viewers using ad blockers

Wikia is not accessible if you've made further modifications. Remove the custom ad blocker rule(s) and the page will load as expected.