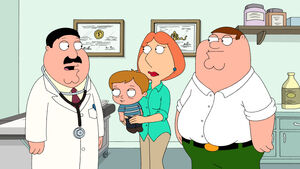 Scotty Jennings is Stewie's friend. When he gets sick in "Livin' on a Prayer", Lois discovers that his Christian Science parents, Hope & Ben refuse to take him for medical care, instead relying on their faith in God to heal him. Lois decides to take him for help on her own.
Scotty is voiced by Max Burkholder.
Ad blocker interference detected!
Wikia is a free-to-use site that makes money from advertising. We have a modified experience for viewers using ad blockers

Wikia is not accessible if you've made further modifications. Remove the custom ad blocker rule(s) and the page will load as expected.