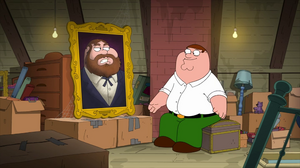 Shaun Mark "Sean" Bean (born 17 April 1959) is an English actor of stage and screen. He is known for portraying Boromir in The Lord of the Rings film trilogy. Other films and shows include Game of Thrones, the James Bond film GoldenEye, Troy, The Island, Percy Jackson & the Olympians: The Lightning Thief and Black Death.
Sean Bean provides the voice of the painting of Peter's ancestor in "No Country Club for Old Men".
Ad blocker interference detected!
Wikia is a free-to-use site that makes money from advertising. We have a modified experience for viewers using ad blockers

Wikia is not accessible if you've made further modifications. Remove the custom ad blocker rule(s) and the page will load as expected.