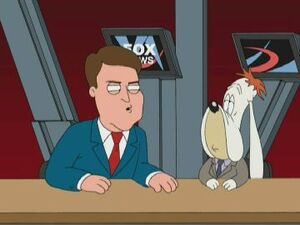 Sean Patrick Hannity is an American radio and television host, author, and conservative political commentator. His nationally syndicated radio program, The Sean Hannity Show, airs throughout the United States on Citadel Media. Hannity also hosts two television shows on Fox News Channel: Hannity, which replaced the political debate program Hannity & Colmes, and the weekend show Hannity's America.
In "Ocean's Three and a Half" Droopy Dog fills in for Alan Colmes on Hannity & Colmes, parodying Colmes' passive nature to Sean's fiery conservatism.
Ad blocker interference detected!
Wikia is a free-to-use site that makes money from advertising. We have a modified experience for viewers using ad blockers

Wikia is not accessible if you've made further modifications. Remove the custom ad blocker rule(s) and the page will load as expected.