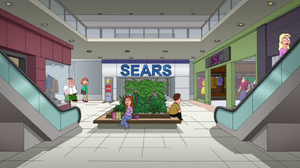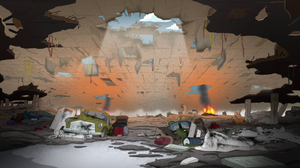 Sears is an American multinational mid-range department store chain. The official name of Sears is Sears, Roebuck & Company. The company was founded by Richard Warren Sears and Alvah Curtis Roebuck in 1893 as a mail order catalog. In 1925 it began opening physical stores. In 2005, it was purchased by the discount department store chain Kmart.
In "Vestigial Peter", Peter tries to shop at Sears for new clothes, insisting that he always shopped there in his youth despite Lois' warning that no one goes to Sears anymore. They discover it to be a post-apocalyptic wasteland with mutants. Peter gets them to take him to the clothing section but returns insisting on remaining with their band.
Ad blocker interference detected!
Wikia is a free-to-use site that makes money from advertising. We have a modified experience for viewers using ad blockers

Wikia is not accessible if you've made further modifications. Remove the custom ad blocker rule(s) and the page will load as expected.