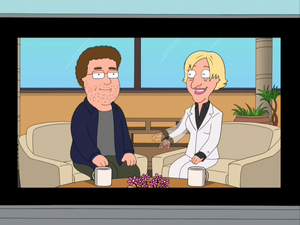 Seth Rogen (born April 15, 1982) is a Canadian Jewish actor, comedian, voice artist, screenwriter and film producer.
He voiced Peter Griffin after being injected with the aptly named "Seth Rogen gene" in "Family Gay". Peter's head had been reformed to look like Rogen's.
He also appeared as himself in "FOX-y Lady" on The Ellen DeGeneres Show, suffering through Ellen's bad breath and babbling.
Seth appears on the DVD cover to Funny People in "Brian the Closer" along with co-stars Adam Sandler and Leslie Mann, which Peter rejects and knocks to the floor.
Ad blocker interference detected!
Wikia is a free-to-use site that makes money from advertising. We have a modified experience for viewers using ad blockers

Wikia is not accessible if you've made further modifications. Remove the custom ad blocker rule(s) and the page will load as expected.