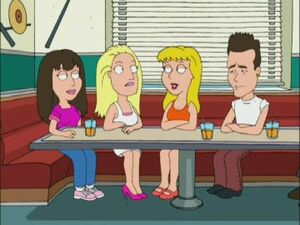 Shannen Maria Doherty (born April 12, 1971) is an American actress and television director, known for her work as Heather Duke in Heathers (1989), as Brenda Walsh in Beverly Hills, 90210 (1990–1994) and its spinoff series 90210, and as Prue Halliwell in Charmed (1998–2001).
In Stewie Griffin: The Untold Story, Doherty appears with co-stars Jennie Garth, Jason Priestley, Luke Perry, and Tori Spelling in a cutaway that parody their teenage characters, even though they began portraying them in their mid-20s.
Perry called Doherty a bitch in "The Story on Page One"
Ad blocker interference detected!
Wikia is a free-to-use site that makes money from advertising. We have a modified experience for viewers using ad blockers

Wikia is not accessible if you've made further modifications. Remove the custom ad blocker rule(s) and the page will load as expected.