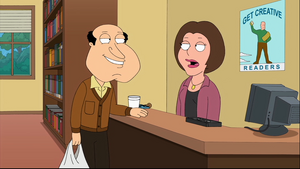 Sharon is a librarian at the Quahog Public Library.
Quagmire returns a VHS tape of Pete's Dragon to the library in "The Old Man and the Big 'C'" and uses the time to try to make small talk. Sharon refuses to allow him to dump his candy wrappers in the trash can and also tells him that a magic show is intended for children.
Ad blocker interference detected!
Wikia is a free-to-use site that makes money from advertising. We have a modified experience for viewers using ad blockers

Wikia is not accessible if you've made further modifications. Remove the custom ad blocker rule(s) and the page will load as expected.