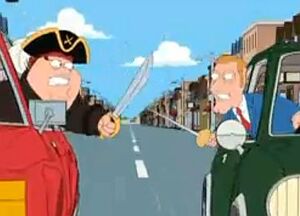 Shelley Boothbishop is a minor recurring character on Family Guy. He has British origins. Boothbishop drives a green BMC Austin Mini, an iconic 1960s British vehicle and the original compact car.
He first appeared in "There's Something About Paulie" when he and his friend Jeremy disagree with Reginald B. Stifworth in regards to the merits of a united European commonwealth.
In "North by North Quahog", he has a minor role as a prudish and upperclass British porn actor.
In "Long John Peter", he is seen transporting sugar cane, tobacco, and spices in his car, and gets in a swordfight with Peter Griffin and his band of pirates. True to life, Boothbishop's Mini has the steering wheel on the right, allowing hand-to-hand swordfights with Peter, who sits on the left of his US car. Peter wins that battle and steals all of Boothbishop's products. Afterwards, Peter's crew fires the cannon one last time, sending Shelley's Mini into the lake, to which Boothbishop offers a salute akin to a naval captain going down with the ship while humming "Rule Britannia". It is unknown whether Boothbishop died as a result or he managed to get to safety.
Boothbishop originates from Seth MacFarlane's first animated show in the two Larry shorts, "The Life of Larry" and "Larry and Steve".
Boothbishop is voiced by Seth MacFarlane.