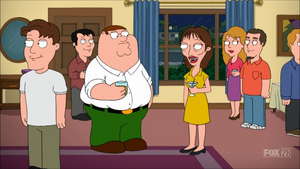 Shelley Alexis Duvall (born July 7, 1949) is an American film and television actress best known for her roles in The Shining, Popeye, Thieves Like Us and 3 Women.
In "Stewie Goes for a Drive", Peter notes that actor Ryan Reynolds was nice to meet, unlike Shelley Duvall, who merely approached him and introduced herself.
Ad blocker interference detected!
Wikia is a free-to-use site that makes money from advertising. We have a modified experience for viewers using ad blockers

Wikia is not accessible if you've made further modifications. Remove the custom ad blocker rule(s) and the page will load as expected.