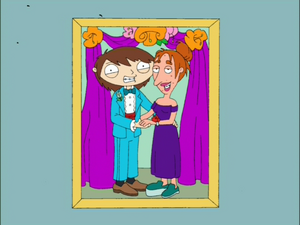 Shirley Blitt was Stewie Griffin's prom date in the Stewie Griffin: The Untold Story segment "Stu & Stewie's Excellent Adventure". An older Stewie, going by the name of Stu, looks back with his younger self on the night, noting that while they couldn't dance due to Shirley's club foot, the punch was amazing due to what he believes was a touch of mango.
Ad blocker interference detected!
Wikia is a free-to-use site that makes money from advertising. We have a modified experience for viewers using ad blockers

Wikia is not accessible if you've made further modifications. Remove the custom ad blocker rule(s) and the page will load as expected.