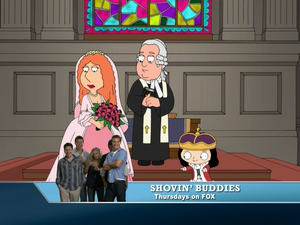 Shovin' Buddies is a fictional television program whose promotional bumpers were shown during "Peter's Progress". It is a parody of the genre of sitcom that a show such as Friends produced. It airs Thursday nights on FOX. Shovin' Buddies is followed by Slowly Rotating Black Man in the Thursday night lineup.
The Shovin' Buddies are: John Ross Bowie, Brody Hutzler, Keri Lynn Pratt, David Pressman and Erik von Detten.
Ad blocker interference detected!
Wikia is a free-to-use site that makes money from advertising. We have a modified experience for viewers using ad blockers

Wikia is not accessible if you've made further modifications. Remove the custom ad blocker rule(s) and the page will load as expected.